SWEET CORN VEGETABLE SOUP
Ingredients
1 can of cream of corn
2 tbsp oil
3 cloves garlic (finely chopped)
1 inch ginger (finely chopped)
4 tbsp spring onion (chopped)
¼ cup sweet corn
¼ cup carrot (finely chopped)
3 cups water
Salt and pepper to taste
1 tsp vinegar
Corn flour slurry:
1 tsp corn flour
¼ cup water
Preparation
In a wok, heat oil and saute the garlic and ginger for 2-3 minutes.
Stir in the spring onions and gently saute for a minute.
Now add the sweet corn and carrots and saute for 2 minutes or until vegetables are slightly cooked.
Add in the cream of corn and give a nice stir for about 3-4 minutes.
Add the water, season with salt and pepper to taste.
Cover and boil for 15 minutes or until the vegetables are cooked through.
Prepare the corn flour slurry by mixing 1 tsp corn flour in ¼ cup water in a bowl.
Mix well to avoid lumps.
Pour in the corn flour slurry and stir well and boil until the soup thickens.
Finish off by adding vinegar, mix well and serve hot garnished with few spring onions greens.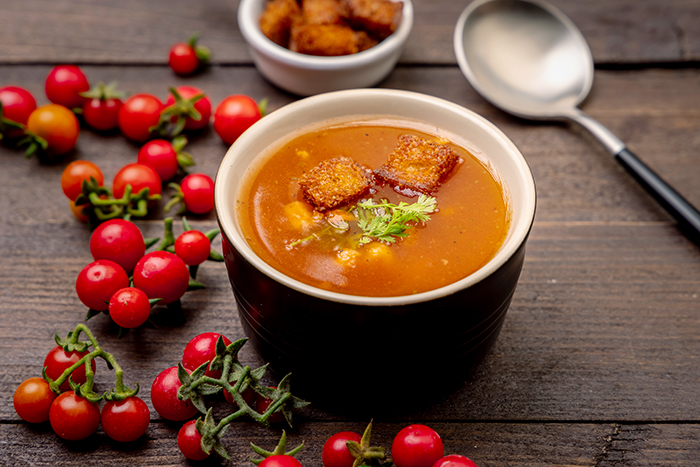 TOMATO SOUP
Ingredients
1 tbsp butter
5 big tomatoes
1 small beetroot
1/4 cup onion paste
1/2 tbsp finely chopped garlic
1 tbsp cornflour dissolved in 1 tbsp water.
1/4 cup cream
1 tbsp sugar
Salt and pepper to taste
3 cups water
Preparation
Boil 4 cups of water in a deep sauce pan. Gently drop the tomatoes and the beetroot in the boiling water.Switch off the gas and let the tomatoes and beetroot sit for about 5 minutes.
Drain the water out. Take them out in a plate and peel the skin off the tomatoes and beetroot. Discard the peels.Once cool, puree the same in a blender.Strain and keep aside.
Heat the butter on medium flame, in the same sauce pan.
Add garlic and sauté for a minute.Add onion paste to the pan and saute for 5 minutes on medium flame.
Add the tomato and beetroot puree with 3 cups of water. Cover the lid and cook on medium flame for 15 minutes.
Add dissolved cornflour, salt, black pepper and sugar to it. Stir it well. Bring it to a boil and then simmer and cook for 5 minutes more.
Stir in 1/4 cup of cream and mix well.Switch off the flame.Serve hot garnished with croutons.
CHICKEN SOUP
Ingredients
1 tbsp olive oil
2 tbsp unsalted butter
½ cup all purpose flour
1 garlic clove, minced
½ small onion, finely chopped
1 small celery stick , diced
2 cups chicken stock
3 cups milk
Salt and pepper to taste
¼ tsp garlic powder
1 cup cooked chicken , diced or shredded
Preparation
Heat oil in a large pot over medium high heat. Add onion and garlic and cook for 2 minutes until pink.
Add celery and cook for 1 minute to soften.
Add butter and melt. Then add flour and mix until incorporated, and stir constantly for 1 minute.
Add broth, then add milk and mix to combine, then season with garlic powder. Add the chicken.
Bring to simmer, mixing occasionally to stop bottom from sticking. As it heats, it will thicken – about 4 to 5 minutes.
Once thickened to your taste, adjust salt and pepper. Serve hot .