Muscat: The Riyam - Muttrah hike is a favourite with all novice hikers in the city. The path is well defined, with arrows and flag markings. If you start at daybreak, you can reach Muttrah souk just in time for a karak before 8am. But for those who like a challenge, there are some ways to take it up a couple of notches.
Start at Muttrah

Instead of starting at Riyam, park your car at Muttrah in a lane just after the entry to Muttrah fort. Locate C38 trail start on Google Maps, and that's the place to begin. The first part of the hike is exciting. You encounter little pools of water inhabited by tiny frogs and tadpoles. You will need to find innovative ways to traverse these pools, so that you don't get your shoes wet. After a 45 minute walk at a reasonable pace, you reach the wadi where you have to take the uphill route towards Riyam.
Spend sometime in the wadi, admiring the terrain and the vegetation before you make your way up. At the highest point, you will be rewarded with a picture-postcard view of the incense-burner monument.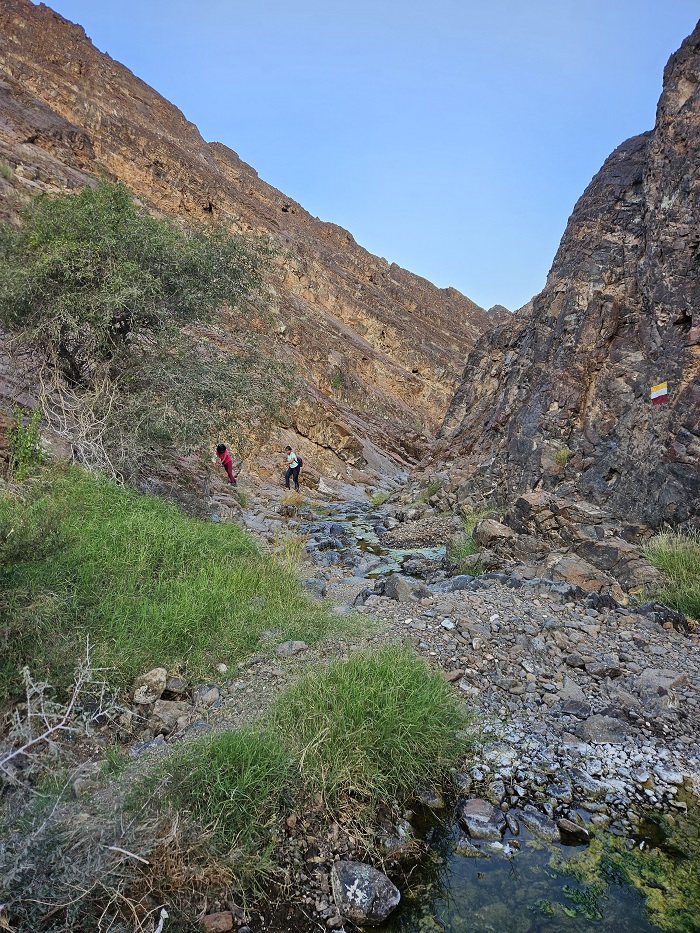 Decision Time

As you descend towards Riyam (you would have trekked for just over an hour already), you will see an arrow directing you towards the Riyam car park. Ignore that one, and look at the other arrow pointing towards Old Muscat. Take a big swig from your water bottle, and tighten your shoelaces, because this is the path you will be taking.
Hike towards Old Muscat

This will be the challenging part of the trek, with uphills, downhills and a few narrow crevices to squeeze through. There isn't much shade, so be sure to slather on the sunscreen and wear sunglasses. Just when you think you've challenged yourself enough, and wonder if you can summon a helicopter to pick you up, you are greeted with a glimpse of the white walls of homes in Old Muscat. From this point, it will take at least 20 minutes to reach the end of the trail, but the sight of the city will egg you on.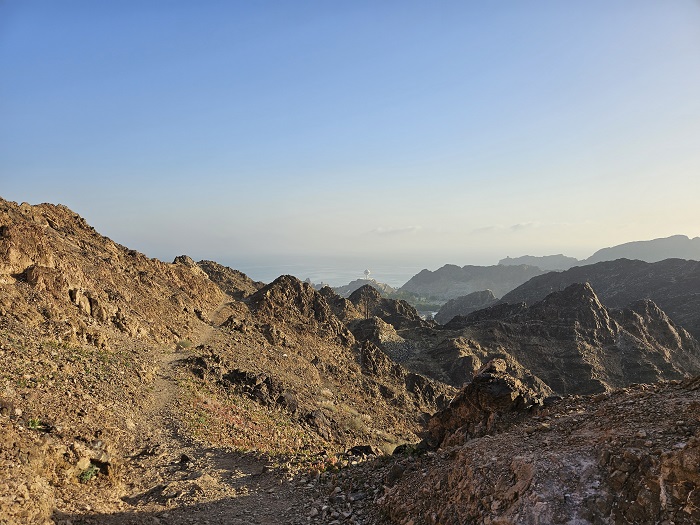 The best part is yet to come

If you are tempted to hop into a taxi to take you back to the parking lot, don't succumb. The walk from Old Muscat to Muttrah on a spring morning is something out of a storybook. Climb up the stairs of the Muscat Gate Museum and take in the views. Try to spot unique migratory birds nesting on the mighty trees that line the street. Admire the hard work put in by the gardeners who maintain the lawns and flowerbeds. The last 3 kilometers will feel like a walk in the clouds.
Pro Tip: Always hike with a companion, carry enough water and keep your phone charged

Also: Don't leave any trash behind, and don't push yourself beyond your physical fitness level

Location: Muttrah C38 trail to Old Muscat C39b, and back via Al Bahri Road, Muttrah Corniche