Muscat: Imagine being a 15-year-old, cheering for the Gods of Football as they defy the limits of both human body and gravity at the FIFA 2022 match in Qatar. Now imagine standing in the same stadium three months later - this time on the field in front of a crowd cheering you on!
Sounds like The Dream - right?

The players of Muscat Football Academy (MFA) recently got the chance of living this dream at the Arab International Youth Cup 2023 held in March in Doha. The international tournament had 30 teams from Qatar, Saudi Arabia, UAE, Kuwait, Oman and India competing in categories ranging from Under 8 to Under 16.

Transforming the dream opportunity into a life-long moment of pride, MFA's Under 16 team claimed the gold trophy. With the Omani national anthem being played at the historic arena the players brought glory not just to their academy but to all people living in Oman.

The Vision
This moment of glory encapsulates the vision behind MFA - says Chuck Martini, MFA founder and coach for U16 team.

Martini -- a former Morocco international goalkeeper who played for Premier League sides Leicester City and Tottenham -- beams with pride as he recounts "Our Goalkeepers performed heroically throughout the tournament especially when the Finals was decided by the dreaded Penalty Shootout."

The MFA teams got medals in each one of the 5 age categories at the tournament organized in association with Aspire Zone and the Qatar Football Association.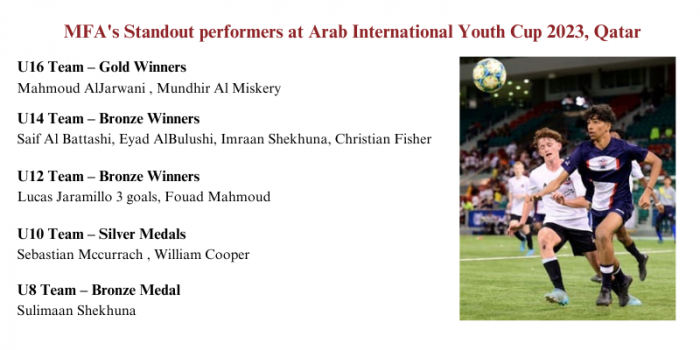 Martini talks fondly about the players as "my kids," and mentions appreciatively about the players "preforming heroics" on the field. He acknowledges how many parents travelled to Doha to cheer for their children expressing his gratitude at the team effort displayed by the players as well as their families and coaches. He also thanks the Eva Clinics, the sponsor of MFA's Arab Youth Cup kits.
With coaches from the UK, Portugal and Oman, MFA attracts children from expat and Omani communities alike bringing together diverse coaching practices and styles. Teaching the players to work as one team given their multicultural background, is an exclusive education in itself.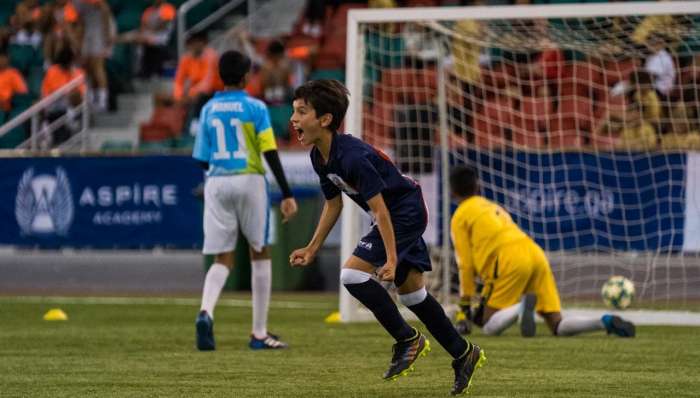 A young player shares his excitement after scoring a goal.
It comes as no surprise that players from MFA are currently playing professional football in the European League clubs for Holland and Italy. FC Utrecht Holland Premier League' Mees Eppink and Genoa FC Italy's Suhaib Alkharussi and Genoa FC Italy 2nd Division's Mohammed Alnamaani and Ali Alhashmi were all trained at MFA.
University Scholarships
Despite the emphasis on excellence, Martini acknowledges not every child will go on to play football professionally. He talks about how MFA experience has helped players secure university sports scholarships abroad. Their time at MFA will definitely develop a lifelong love for football, Martini expresses hopefully about the children. A character- building game where the needs of the team are paramount before one's own thirst for glory, football teaches children sportsmanship, leadership and above all connection with others – all core human assets in a future seemingly dominated by AI.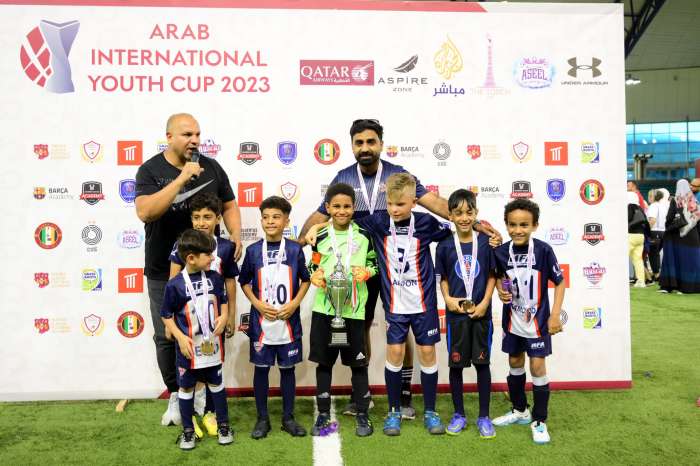 MFA's younger players display their medals proudly at the Arab International Youth Cup 2023.
A man of big ambitions and a bigger zeal, Martini's dream is to not just for his players to reach the European League but to create a league of tournaments where players from all academies in Oman compete with each other regularly. Rising over the competitive spirit, giving something back to the game, Martini aims to create this ecosystem which provides all players the opportunities of playing the game at their best ability.
The Motivation
With this motivation to help his players continue working towards achieving their potential, Martini says he isn't letting his players bask for long in the glory of the Arab International Youth Cup success.
Martini explains his motto isn't as much Practice makes Perfect, rather Practice makes Consistent. Consistent effort in all situations is what helps you deliver your best - mark of a true sportsman - a warrior ready to face a challenge any time!

Afterall MFA isn't called the 'Home of Champions' for nothing!

(MFA has 3 Academy training locations at Cheltenham Muscat International School, Downe House Muscat International School (Girls Only School) and Ras Al Hamra sports field in association with the PDO Club. It also operates the ECA programs at Royal Flight School, International School of Chouifat, The French school Muscat and Our Planet International School.)