Muscat: Israr Ghala scraped past Vanderlande by one wicket in a thrilling final of the Oman Cricket Senior Knockout Tournament, powered by Khimji Ramdas, while Earn Trust defeated Mazoon Dairy by 13 runs in the final of the Junior Knockout Tournament, powered by Khimji Ramdas, at the Municipality grounds in Al Amerat on Friday.
Batting first, Vanderlande scored 137/6 in 20 overs with Aravindh Ramesh top-scoring with 60. His knock came off 41 balls and included five boundaries and two sixes. Mobeen Muhammed bagged 2/22 to be the most successful bowler.
In response, Israr Ghala lost three early wickets in the powerplay but Akhtar Saqib smashed a 32-ball 63 (6x4, 3x6) to power his team towards the target. Late blitz from Naeem Muhammed and Mubeen Muhammed's six sealed the victory and the title as Israr Ghala scored 138/9 in 18.3 overs.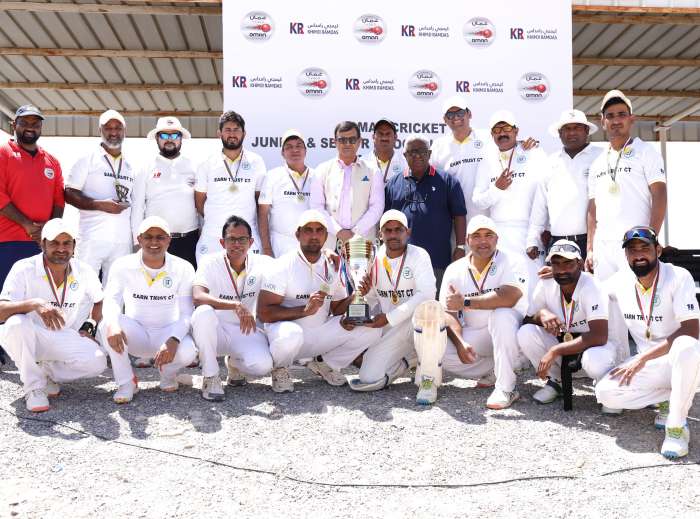 Earn Trust, winners of the Junior Knockout Tournament
In the Junior Knockout final, Earn Trust elected to bat first and reached a competitive total of 167/8 in 20 overs. Imran Ali (39 of 29; 4x4) and Khurram Chaudary's (41 of 28; 5x4) were the main run-getters. Mazoon Dairy's Mohammed Ghafoor's 2/21 and Manish Bhatia's 2/20 were among the wickets.
Chasing a tough target, Mazoon Dairy's opener Ali Asgher (54 of 44; 6x4) played a responsible knock to take them closer to the target along with Mohammed Ghafoor's 38 (21b; 3x4,2x6).
However, Mazoon Dairy lost a couple of wickets in quick succession to derail their chase as they were restricted to 154/8 in 20 overs. Mustansar Hussain claimed three wickets with Mozzam Shah and Shameer Khwaja took two wickets each.
Later, Oman Cricket's treasurer, Alkesh Joshi, and chief development officer of Oman Cricket, Duleep Mendis, presented the trophies to the winners and also gave away individual awards.