The Gamescom computer and video games fair in Germany is expected to attract hundreds of thousands of gamers this year. Brazil is the country's official partner.
Gamescom, the largest video games trade fair in the world with its own account, opens its doors in Cologne on Wednesday. More than 1,220 exhibitors from 63 countries will show their new products over the next five days. Hundreds of thousands of gamers will patiently join long lines to spend 15 minutes at a time trying out games scheduled to be released in the coming months. It will be loud and crowded in the Cologne exhibition halls when the international gaming industry comes together.

"This year more than ever, Gamescom is a reflection of the global gaming culture: dynamic, international, creative, diverse and huge," boasts Felix Falk in a press release. He's the managing director of the German Games Industry Association, which co-organizes the trade fair.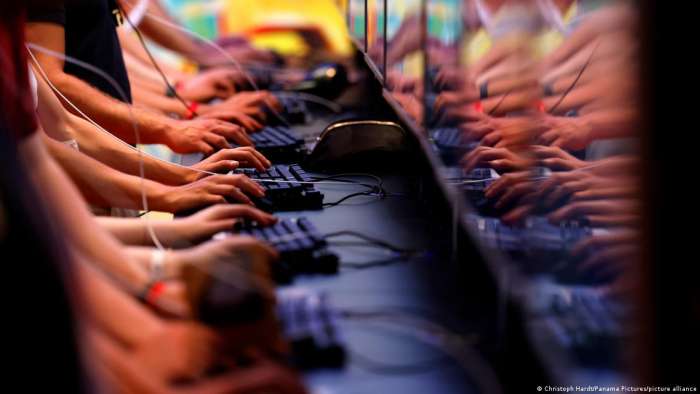 But it wasn't a foregone conclusion that Gamescom would even take place at all this year. The E3 (Electronic Entertainment Expo) in Los Angeles, for decades the most important trade fair for video games, has not returned after the COVID-19 pandemic forced cancellations.

That's in part because, during the pandemic, many game companies experimented with presenting their new titles through live streams. In the meantime, streaming formats such as Nintendo Direct, State of Play, Xbox Games Showcase, State of Unreal or Ubisoft Forward have become well established. So developers and publishers are no longer dependent on in-person events to stay relevant. By partnering with streamers, they can reach their target audience directly — and at a significantly lower expense than when they travel around the world to trade fairs with a bunch of people and purpose-built demo versions. It's perhaps no wonder that big names like Sony Interactive Entertainment (makers of Playstation), Electronic Arts ("EA Sports FC 24"), Epic Games ("Fortnite"),

Partner country Brazil represented by nearly 60 studios

For the first time ever, a South American country is the official partner country of Gamescom. Brazil's gaming industry has grown significantly in recent years, and it has concentrated mostly on the PC and mobile games market. More than 1,000 games studios are now located in Brazil, in contrast to the 133 companies in 2014. Some 13,200 people are employed in the sector in Brazil, and are increasingly producing for the international market, which is made affordable by digital distribution channels.

According to the "Brazil: Game Industry Report 2022," fewer than half of the studios in the country receive state support. Many games are financed by the founders themselves, with help from their friends, family and individual investors. The result is that, so far, none of the really big games has come from what is the fifth largest country in the world. Developing so-called AAA games — the blockbusters of the gaming world, like "Elden Ring" or " Hogwarts Legacy " — can cost at least $100 million (€91 million).

But the Brazilian studios don't have anywhere near that kind of budget. So the country produces mostly indie games, rendered in pixel graphics or a comic-book style. The Brazilian delegation to Gamescom is made up of almost 60 studios, which are bringing titles of various genres, including horror games, rhythm games, role-playing games, 2D jump-and-runs, and the cute cozy game "Gaucho and the Grassland." "," a farm simulation game.

That's likely to appeal to gamers in Germany, where simulator games have a dedicated fanbase. The game called "Farming Simulator" is once again present at Gamescom with an extensive exhibition stand. Major exhibitors like Bandai Namco Entertainment ("Armored Core 6: Fires of Rubicon," "Naruto x Boruto: Ultimate Ninja Storm Connections"), Microsoft ("Cyberpunk 2077: Phantom Liberty," "Forza Motorsport," "Immortals of Aveum," "Payday 3," "STALKER 2," "Starfield") and Nintendo ("Prince of Persia: The Lost Crown") are among those offering a preview of their upcoming releases.

Indie games offer surprises
Indie games are developed by smaller studios that work independently of big companies. It can be worth while visiting the Indie Arena Booth, where visitors can try out international indie games and chat directly with the developers. The mood is friendly, and gamers are often surprised by the creativity of the smaller studios.

The Retro Area at Gamescom offers gamers a chance to take a deep dive into the history of video games and play vintage titles like "Pacman." Cosplayers have a special village just for them, and organizers have also announced an e-sports tournament.

On the eve of the first day of Gamescom, Opening Night Live (ONL) traditionally takes place, hosted by Canadian video game journalist and founder of the Game Awards, Geoff Keighley, and featuring trailer and gameplay reveals as well as developer talks.